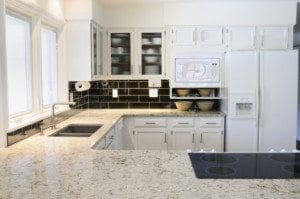 While it may be more common to address your remodeling needs in the warmer months, autumn can illuminate all of the areas in your home that could use a little work. If your home could benefit from a small update or two, here are four easy renovation ideas to try this fall:
Polish or re-stain wood floors
If you're lucky enough to have hardwood flooring in your home, you know that small scuffs can have a big impact on your floor's overall look. Although wood floors last a long time, maintenance is a must. When the kids are back to school and the weather starts to turn, the foot traffic can really take its toll. When you polish your wood floors, they'll have a beautiful shine that will last throughout the season; stripping and re-staining your floors is a larger job, but it can make a colossal difference in the appearance of your home.
Revamp your fireplace
When chillier weather starts to roll in, you'll want to make good use of your fireplace. But an outdated mantel or inefficient heating system can prohibit you from using it at all. Whether you need your heating system checked or want to make your fireplace into a central conversation piece, you'll want to make sure that it's a feature you can use and that makes the whole family want to gather 'round. Even just a coat of paint on a brick fireplace can give your whole home a fresh new look!
Small kitchen updates
Kitchen remodeling can be pricey, but a small, inexpensive change can have huge benefits! Even a minor kitchen remodel has an average 82.7% return on investment. Any kitchen remodeling contractor will tell you that you don't need to take on a huge renovation to improve how your kitchen functions and looks. Adding a backsplash will protect your walls from food splatter and can add necessary visual interest to your kitchen. There are tons of tile options that will allow you to add your personality into the space. Something like switching out your countertops can make you see your kitchen through new eyes. Adding extra storage, a new light fixture, or changing your cabinet hardware will make you feel like you're in a totally new space. Even if you're not doing a big overhaul, a kitchen remodeling contractor can clue you in to some great options that will be quick, cost-effective, and impactful.
Once the kids have gone back to school and the temperature cools down, there are lots of small renovation projects that you can do to revitalize your home this fall. Whether you're looking for bathroom remodeling ideas or require the expertise of a kitchen remodeling contractor, we're here to help. Contact us today to get started on your home renovation project.