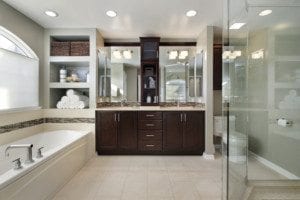 There are some designers, DIY lovers, and hipsters who obsessively follow the latest home design trends. While that might be great for people with bespoke Youtube channels, it's a problem for actual homeowners. If you invest in bathroom remodeling ideas that are trending super hard right now, you'll end up with a bathroom that looks absurd 18 months later.
That's the problem with trends — they only last a little while. But so long as you're working with the right bathroom remodeling contractors, your new and improved master bathroom should last you for decades.
Bathroom remodeling services are by far the most popular home improvement project in the United States today. According to a survey from the popular home site Houzz, 60% of homeowners said they planned to remodel their master bathroom. And in a survey from the National Association of Home Builders, bathroom remodeling is the #1 most requested job in the country, making up 78% of all home renovations.
So beware the super hip home, kitchen, and bathroom remodeling ideas. That being said, you can find some fantastic bathroom remodeling ideas on sites like Pinterest, Youtube, and other online resources. Just remember that what's trending today is very often tacky tomorrow. If you want to just make your bathroom look more trendy without putting a ton of money into it you could just get new bathroom accessories and decorate it different.
1. Geometric Tiles
In recent years, many bathroom remodeling contractors have become experts at installing geometric tiles in kitchens and bathrooms. This effect can be achieved with many types of flooring, from vinyl tiles to natural stone.
2. Stained Glass Windows
Frosted windows were popular for years in bathrooms, but today, many people want to incorporate more color into their home design. If you're looking for unique bathroom remodeling ideas, consider a bright stained glass window. It helps maintain privacy while also giving your home a splash of color.
3. Galvanized Steel Tubs
In days gone by, American women did their laundry in those large galvanized tubs, the ones that look like giant silver buckets. Today, many people are incorporating these into countertop installation and using them as sinks.
4. Modern and Antique
While old school baroque designs have fallen out of fashion, many people are still finding ways to use antiques in their bathroom remodeling ideas. Find an antique wood frame and have your bathroom remodeling contractors use it with your mirror. In an otherwise modern-looking room, these little touches provide a classic twist.
5. Natural Elements
This is one of the top bathroom remodeling tips you'll find on sites like Pinterest. Many people are using natural wood and stone in unexpected ways, such as sinks, countertops, and bathtubs that look like they're cut from boulders.
6. Keep It Simple
Don't feel the pressure to impress people on Pinterest; some things are classic for a reason. There's a reason 79% of homeowners say they prefer glass shower enclosures, so don't overthink your new master bathroom.
7. Make Bathrooms Fun for Children
Finally, while most people want their master bathroom to look a certain way, there's no reason a kids bathroom can't have some fun and quirky design elements. Bright colors, murals on the wall, or even a fish tank are all simple ways to make bath time great again.