Here is a great article recently published on HGTV.com with tips and tricks to clear off your counter tops. Click here for the whole article see our summary below.
Install the simple shelving from IKEA
Add a Vertical Layer over your sink
Stack linens neatly out of the way with this corner shelf from Joss & Main.
For more ideas and pictures on saving space on your counter tops read the whole article on HGTV.com
The new owners of this 2 Bedroom, 2 Bath Condo in The Terrace Condominiums , a luxury mid rise condominium building in Victory Park located at 2323 Houston St, which exemplifies Dallas luxury and style contacted Renowned Renovation to update their Kitchen.
Renovation Overview


Paint colors for the Master bedroom - Behr sparrow 780-4u (walls, trim, doors) the ceiling should be painted 50% of this color
Kitchen, living room, entry, guest bedroom, guest bathroom, master bathroom, laundry room and all closets (everything except master bedroom) - Behr silver bullet N520-2u (walls, trim and doors).
The ceilings should be painted 50% of this color.For all trim and doors, use the same color as the walls. All trim and doors should be semi gloss, all walls eggshell and ceilings flat. All ceilings should be 50% of the wall color.
We worked with the original designer and he provided us the specs for the flooring, paint colors, silestone counter-tops, backs-plash, and lighting as you can see below.
A Kitchen face lift might be best option of the three different ways you can bring new life into your home's kitchen. You can give a kitchen a face-lift, renovation or a complete remodel. The difference between the three is time and money. A face-lift for your kitchen normally involve stalling new counter-tops and updating your cabinets with a fresh coat of paint or refinishing them to bring back the original luster.
Contact us for a free estimate today for a kitchen face-lift, a kitchen renovation and/or a full kitchen remodel. Renowned renovation is here to help you make the right decision. Will help your dreams come true for your kitchen!
Here are three pictures of a Dallas Texas kitchen that we recently gave a face-lift to.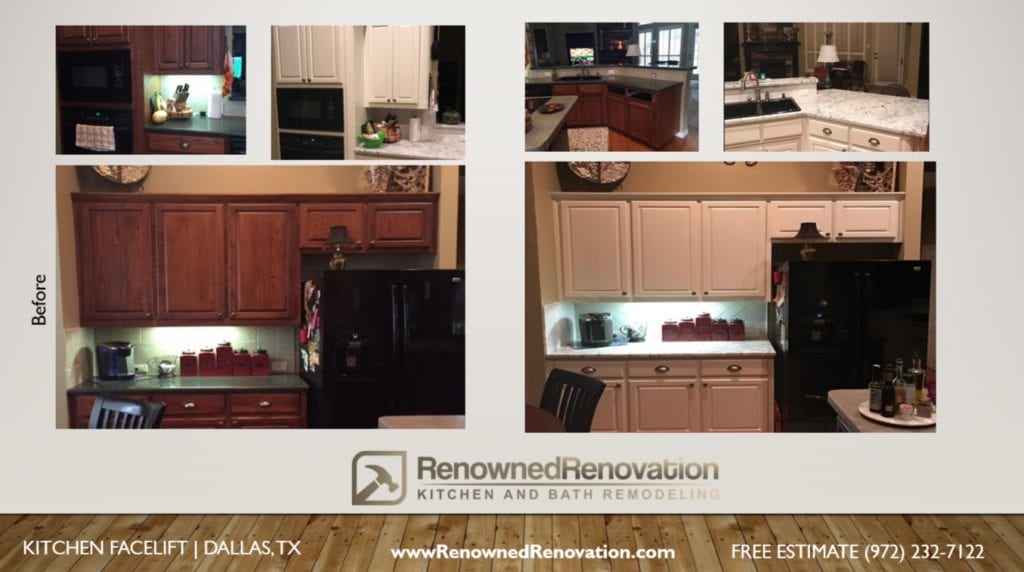 As you can see the cabinet's went from Dark Wood to a much more modern light color. New counter tops were installed, replacing the dark counter tops you see in the picture.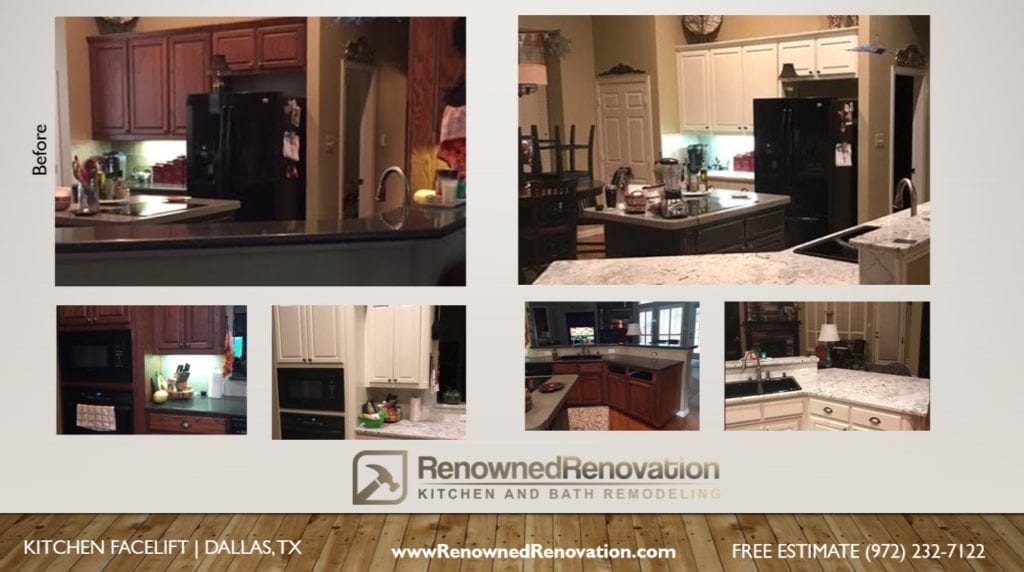 The Dallas homeowner wanted to keep all of the existing appliances sinks and faucets.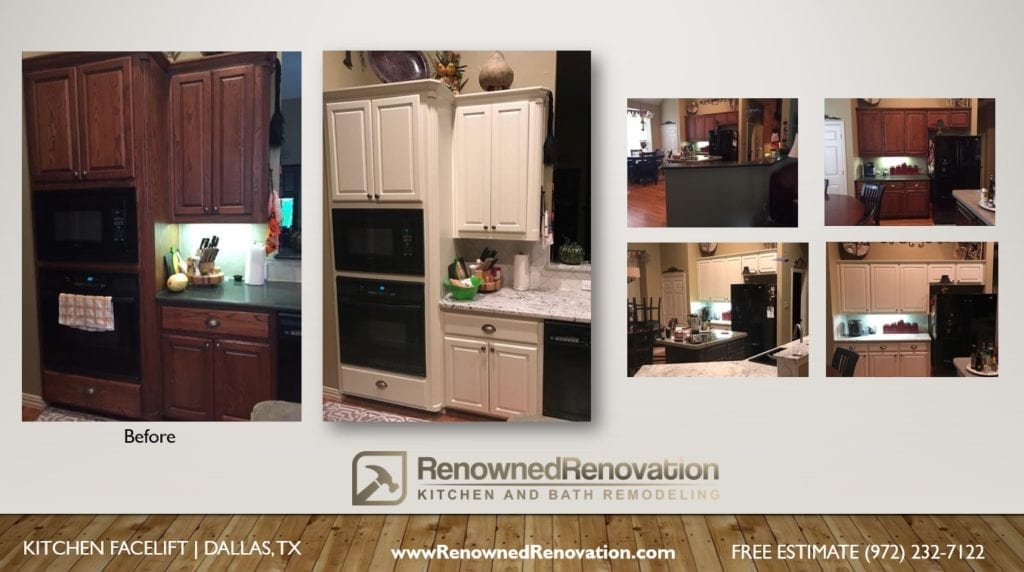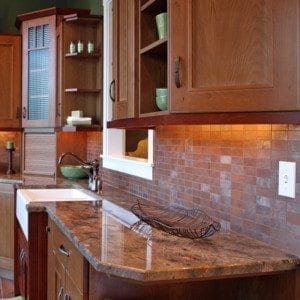 With the popularity of renovation TV shows, you may be under the impression that your kitchen needs a complete overhaul. But many times, your kitchen can benefit just from a few simple tweaks to increase visual interest and functionality. Whether you're introducing an easy change or want to explore total kitchen remodeling, these ideas will give you a jumping-off point in terms of re-imagining your existing space. Here are three simple ways you can update one of the most important rooms in your home: the kitchen.
Countertop replacement
For many homeowners and home buyers, granite countertops are all the rage. While a well-maintained granite countertop can last for up to 50 years without so much as a scratch, you don't need an expensive countertop installation to add value and interest to the space. For instance, quartz is a great option: your countertop maintenance will be virtually nonexistent because it's such a durable material, and it's not nearly as costly as granite or marble. If you're looking to make your countertop into a statement piece, something unique like butcher block or recycled glass can be a great, eco-friendly idea.
Replace fixtures
Something as easy as replacing the knobs and pulls on your cabinetry can make a huge difference! Fixture styles can easily look outdated, so embrace your sense of style with new fixture options. Whether you like contemporary stainless steel or a vintage weathered look, you can easily add your personality into the space with this simple adjustment.
Add a backsplash
Trends in backsplash tiling come and go, so if you have an existing backsplash you've grown out of, swapping it out for something new can make you feel like you're in a brand new room. Subway tile gives kitchens a clean, timeless look, but you can also opt for something unconventional like recycled materials or chalkboard paint. The possibilities are endless, and they'll let you see your kitchen through fresh eyes.
Although you may be tempted to do a full kitchen remodel, sometimes little improvements will have a huge impact. Not only will your kitchen look fresh and new, but you can add a lot of value — and decrease the need for unnecessary updates and countertop maintenance — with small updates that your family (or potential home buyers) will notice and love.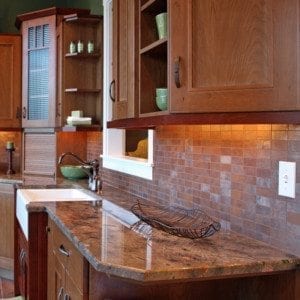 Did you know that a small kitchen renovation can bring you an 82.7% return on investment? A recent survey from the National Association of Home Builders' found that 69% of homeowner requests involve kitchen remodeling services. Modern, luxury kitchen features have never been more in demand.
Even if you don't want to re-do the entire kitchen, there are still simple ways to upgrade. New countertop installation can be especially rewarding when it comes to selling your home or even just investing in kitchen remodeling for your own enjoyment.
It's important to know that all materials aren't created equal. Granite, marble, quartz, and quartzite are some of the most popular countertop materials, but they don't all have the same durability.
Granite
This material is very hard and lasts around 50 years without a scratch when maintained properly. However, despite its hard nature, it is still a highly porous material that will stain without sealing. It is recommended to seal granite countertops yearly.
Also, because granite is designed by Mother Nature, the material isn't uniform in coloring. This can be a pro or con depending on your tastes, but you can possibly expect different color variances than you originally ordered.
Marble
Similar to granite, marble are very porous and must be sealed regularly. Marble is softer than granite and is more prone to etching from knives and pan scratches. Acidic materials and colored liquids are more likely to erode and stain marble than any other materials, so great caution must be made in the kitchen to wipe up spills quickly. Cutting boards are also essential with marble.
The designs on marble are also much more consistent than granite (think gray veining streaks across the entirety of the material against a white or light gray body). Despite these minor drawbacks, marble is an bright luxury material that will be the focal point of any kitchen.
Quartz
This countertops are manufactured in a variety of different colors and patterns, and are more predictable in their composition. Quartz are made with plastic resin and are therefore not as heat resistant. They are just as hard as granite but are non-porous and do not require any sealing. They will not stain, but will discolor over time if exposed to direct sunlight.
Since quartz is manufactured, seams in the different slabs will be easier to hide than the other materials during countertop installation.
Quartzite
Known as a natural-forming rock and has a similar appearance to marble. It is the hardest of all four materials and is extremely heat resistant. Like the other two naturally-forming materials, quartzite must be sealed, as to prevent staining.
So which of these natural stone materials is best for your next kitchen remodeling project? Ultimately, when it comes to countertop installation, there are other factors at play, such as how the chosen material will match the existing kitchen design.
To find the option that works best for you, find experienced kitchen remodeling services who have worked with these materials before. And if you're in the Dallas area, contact Renowned Renovations to start designing.
Before
[Best_Wordpress_Gallery id="8″ gal_title="Before-Kitchen-Remodel-Richardson-TX"]
During
[Best_Wordpress_Gallery id="9″ gal_title="During-Kitchen-Remodel-Richardson-TX"]
After
[Best_Wordpress_Gallery id="7″ gal_title="After-Kitchen-Remodel-Richardson-TX"]
This Richardson Texas homeowner called Renowned Renovation seeking a qualified contractor to not only renovate their kitchen but to also help guide design and space planning. They had one other request; keep the floor.
It was an absolute pleasure working with the owner's and we wish them well in their new kitchen!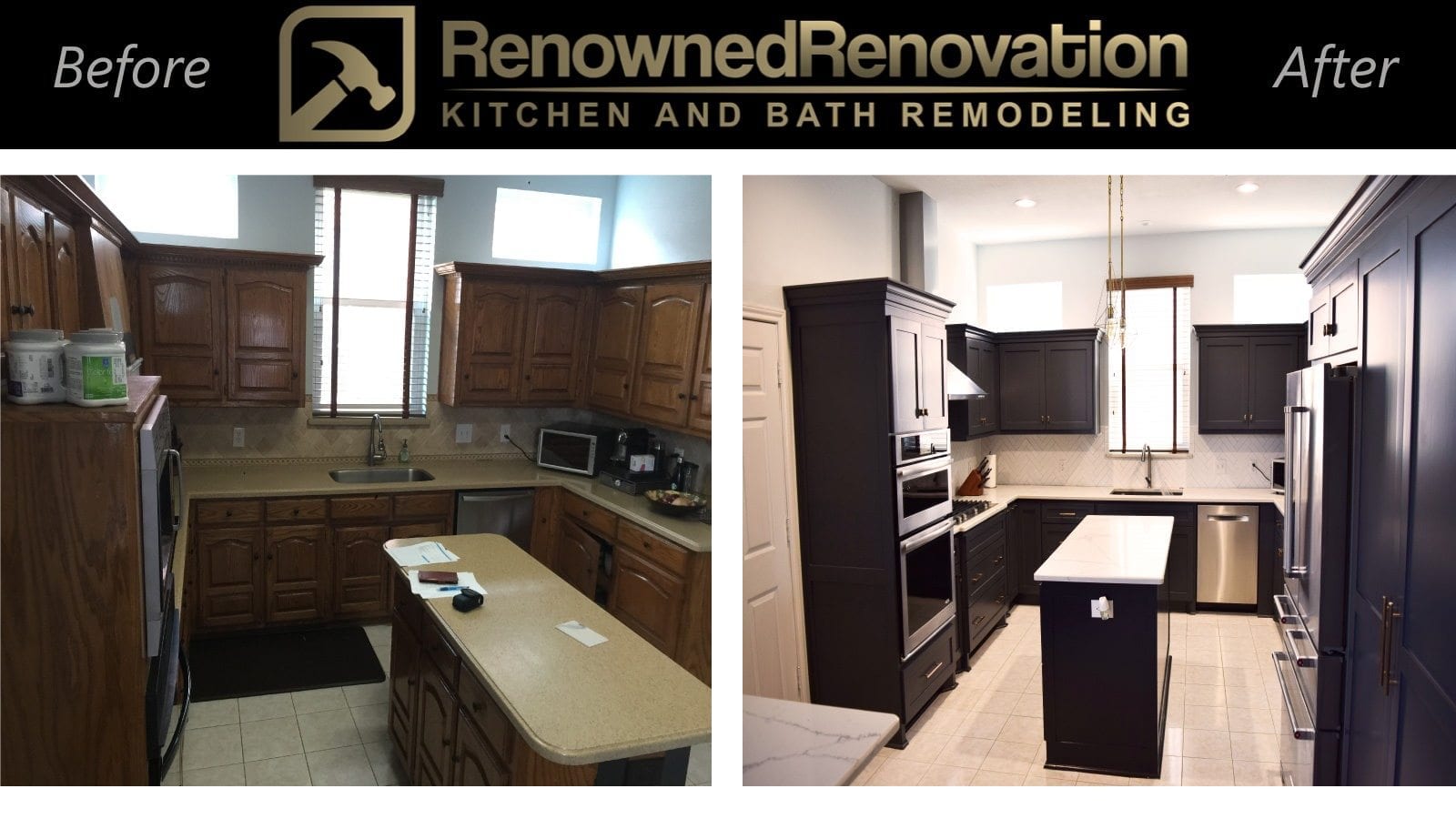 Keeping the existing floor s alway an interesting challenge, but not to much for Renowned Renovation. After taking a look at the kitchen we quickly realized the traditionally framed pantry was a waste of space and building a fully functional cabinet pantry with pull outs and built in fridge box we were able to really utilize the space. We added all new cabinets and emphasized drawers on the lowers, a smaller island with trash pull, and added a breakfast table. The stainless steel appliances and Blanco Cascade sink blended beautifully with the paint colors selected by the Long's. Add in the Arctic White matte 2×8 subway backsplash in a herringbone pattern and Calacatta Borghini Quartz and have contemporary elegance meets traditional home seamlessly.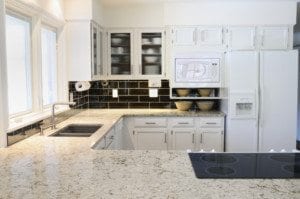 Angie's List has a warning out for anyone looking for new countertops. In a syndicated column appearing in newspapers around the country, Angie's List writer Oseye Boyd warns homeowners to watch out for deals that are too good to be true.
For instance, if someone offers you a great deal on discount granite for $29.99 a square foot, then they may be hiding the true costs of the job in the labor costs. It's easy to offer a low square-foot price when you're actually charging $500 per hour for your time and labor.
That's why you should always ask what exactly is included in the square-foot price, to avoid surprises down the line. For instance, some contractors might charge you extra for the granite countertop edge, driving up the price after you've accepted the job.
And if someone says they have some wonderful granite countertops left over from a previous job, run the other way.
Bathroom Remodeling Tips: How To Get a Fair Price on Granite Countertop Installation
Boyd writes for Angie's List that entry-level granite countertops usually cost $55 to $65 per square foot, while luxury materials often cost more. But when asking for a quote from home improvement contractors, ask for a quote on the entire job, not just the materials.
One granite countertop expert warned, "Don't worry about the square foot cost because that's such a small part of it. Unless you know what's included in the square foot, it's so irrelevant."
Whether you're looking for new granite countertops for your kitchen, bathroom, or a really weird bedroom, there's a reason this material is so popular. Not only is it an attractive surface that somehow looks both modern and classic simultaneously, but properly cared-for granite countertops can last for 50 years or more without a single scratch.
Compared to most other materials inside the average bathroom, that makes granite nigh indestructible.
In a survey from the National Association of Home Builders, bathroom remodeling was the #1 most requested job, and 78% of all home renovations included bathroom remodeling. And in a survey from popular home improvement site Houzz, 60% of users said they were planning to remodel the master bathroom.
Because bathrooms are some of the most used rooms in a home, and because they're subject to high moisture levels, these rooms need renovation more frequently than most rooms. So long as you get a fair price from reputable bathroom remodeling contractors, granite countertops are in ideal choice for homeowners. They're some of the most durable, attractive types of countertops available today.
Kitchen Remodel Dallas: Before Renovation
Another Kitchen Remolding and Renovation by your North Dallas Kitchen Remodeling Professionals – Renowned Renovation
The new owners of this 1980's ranch style home in North Dallas' Prestonwood neighborhood had the house they were looking for, but wanted their kitchen to have an open, modern feel. To open up the kitchen, we took out two walls and an outdated wet bar, and added three LVL beams to create a large, open space. The owners wanted their kitchen to have a centerpiece that would accentuate their modern space, and decided to go with a waterfall style island that would be large enough to serve as an informal dining area. With these custom cabinets, quartz counter-tops, glass tile back-splash, and light colors, the end product has become a focal point that the family can enjoy for years to come.
Check out these 360 Degree Interactive Remodeling Fish Eye Views of a Dallas Kitchen that we just finished Renovating! Call for a FREE Renowned Renovation In-Home estimate today.
Are you ready for a Renowned Renovation?
Get a free in-home estimate. Want references? No problem. Call us on (972) 232-7122 during business hours or (866) 711-6316 after hours.

Michael Clower
Operations Director
We are happy to answer any questions you may have, or schedule a one-on-one to go over your home remodeling needs. Click here to contact us, the remodeling experts, or call us today at 972-232-7122.
Home Remodeling Dallas Texas
Before and after pictures of kitchen remodeling renovation project for the new owner of this Dallas home located in the M Street area. We did a complete remodel of the kitchen, bathrooms, and living room. This includes removing everything in the kitchen, bathrooms, and living…all the way down to the studs.
If you are thinking about renovating your bathroom, Renowned Renovation is the choice for selective homeowners wanting a kitchen or bathroom remodel in Dallas Texas.  If you want a premier local Dallas Ft-Worth renovation remodeling contractor. We specialize in kitchen and Bath remodeling and work with selective homeowners in the Dallas–Fort Worth Metroplex Area. We have worked with homeowners from Lakewood, Highland Park, Oak Lawn, East Dallas, Flower Mound and everywhere in between. Contact us to discuss your homes future.
Please ask us for a list of referrals and we'll be happy to provide you with the contact information for several recently satisfied homeowners and clients who had a variety of renovation work done…from kitchens, baths and flooring and everything in between.
If you would like to see what some our homeowners feedback on their renovation click here or you can see our reviews on Facebook.
Get a quote for your home remodeling in the M Street neighborhood or anywhere in the Greater Dallas Ft. Worth Texas Metroplex . Click here
The Best Dallas Granite Counter Tops for Your Home
If you want the best granite counter tops for your Dallas Homes. Renowned Renovation can help pick the right material to match your home decor and remodeling budget.
For the Beautiful Counter Tops Choose from Granite, Marble, Quartz or Travertine. Call us for a free in-home estimate. Renowned Renovation is one of Dallas's premier granite counter top installation and remodeling companies. We are fully insured, bonded and references. Check out our reviews on Thumbtack.com
About Counter Top Costs
Project budgets and cost is always an important consideration. Of course, if money is no object, then you'll just choose the counter top material that suits your style and lifestyle. Even if you have a tight budget you still have plenty of options to satisfy your design dreams.
Basically the cost of a counter top installation is the sum of material cost plus fabrication (custom cutting) cost plus installation labor cost. The percentage of each is different depending mostly on the chosen material.
Marble & Granite Counter Tops Price: $40-$200 sq/ft.
The price variation is almost exclusively due to the color/variety of material you choose. Some stones are just more rare than others. But countertop edges, slab thickness, number of cut-outs, unique installation issues, etc. can all influence final cost.
Quartz Counter Top Prices: $45-$120 sq ft.
Difference is mainly attributed to different brands, colors and finishes. Silestone prices can be a bit different than Cambria, etc. The average installation cost is very similar to average cost of granite countertops installed ($50-$60 sq/ft.).
Concrete Counter Top: $75-$150 sq ft.
For this surface most of the cost is in the installation, which is almost an art to do well.
Solid-Surface Corian Counter Top: $30-$90 sq ft.
At one time Corian was priced similarly to granite, but prices have come down some.
Soapstone Counter Tops: $70-$100 sq. ft., but can run up to $150 for premium slabs.
Slab quality varies a lot. The harder (lower % talc) the better. However, soapstone is soft enough that DIY installation is possible saving a bundle.
Glass Counter Tops: $80-$120 sq. ft.
Price range of recycled glass counter tops is mainly in the brand and material color choice.
Granite Tile Counter Tops: $20-$60 sq ft.
You save a lot on both material (tile is thinner) and installation, which can be done by a competent handyman (maybe you!) vs. a slab install that must be done by experienced pros.
Laminate Counter Tops: $5-$30 sq ft.
Some laminates are better than others and certain colors and finishes are more expensive, but you can really save on installation by a handyman or yourself!
Choosing The Best Counter Top has a lot to do with your needs for any particular room or location and requires a bit more thought and effort than simply buying your favorite color or what your friends and neighbors have.
True, granite counter tops will provide superior performance in nearly every type of installation with quartz counter tops a close second. A couple consumer magazines rate quartz above granite, however, they never account for the fact that damage to quartz is almost always permanent, while damage to granite is almost never permanent.
So, call us and we help you take your time and give thoughtful consideration to all factors: color, pattern, finish, installation location, frequency and intensity of use, cleaning, maintenance and cost.
It's a bit of a puzzle, but Renowned Renovation will work with you and give you enough useful information to get you started on the right foot… with confidence in your choice material and the success of your Dallas counter top project.