The owner of this Bordeaux Village Townhome located just South of Greenway parks in North Dallas, was preparing to downsize from a luxury home in the suburbs. Bordeaux Village Is a small town within the big city of Dallas. This 17-acre community is conveniently located in the center of Dallas, it is a close-knit neighborhood where residents frequently gather at the pool, clubhouse or one of the large courtyards on the beautifully landscaped grounds.
Affordability and location add even more lifestyle advantages. Home Depot and Lowe's are within walking distance as well as restaurants and shops along Inwood Road and Lemmon Avenue. Dallas North Tollway is just blocks away, and Love Field and lots more entertainment are nearby. The price point of the units in the complex are some of the most affordable in Dallas. The turn over is slow but this will be the third unit Renowned has renovated in the Bordeaux Village in the last 4 years. Watching the price per square foot rise with every sale sparks joy
The owner found our remodeling company through a Google search. Using the terms "Dallas Condo Remodel," the owner found our site and gave us a call using our 24-hour answering service. Homeowners can call anytime to book an appointment in our Highland Park Showroom. When we met in our design center he loved our show kitchen so much we ended up implementing a similar design in his kitchen. The client also included another one of our signature looks; open floating shelving with integrated down lighting.
Step-By-Step Best Practices For A Renowned Remodeling Project
Step 1: Consultation, Scope of Work & Estimate
"Plan your work and work your plan" is an old saying that especially rings true with home remodeling contractors. After the initial consultation we provide a ROM (Rough Order of Magnitude) or Budgetary estimate for the project as well as a separate proposal for Design & Pre-Construction. Design & Precon services includes a permit ready plan.
A permit ready plan consists of an existing floor plan, proposed floor plan, lighting plan, cabinet elevations, and finish schedule. This document is a road map to a successful project. In addition; this document allows the owner to obtain apples to apples estimates from other contractors if they so choose.
The Design and Preconstruction phases is a courtship or engagement prior to entering into a long term contractual relationship with us or another contractor.


The Design Style & Context
Renowned Interior Designer Melissa Blassingille planned the renovation around the owner's furnishings, style, and needs.
Since he is a traditionalist, we were working with the current traditional doors and trim, existing 1951 hickory floors, and the owners need for a "Chef's Kitchen" in a 1,027 square foot space ... we had our work cut out for us to make this a Renowned Renovation.
Melissa evaluated the owners furnishings, eclectic / industrial art and decor, and began the shift from the traditional into a transitional open space that features room for cooking, storage, function, and clean line aesthetic
For finishes, Melissa recommended three options for every finish and then the client made the final selections. Whether its paint color and sheen, custom kitchen cabinet details, Cambria countertops, backsplash, floor and wall tile, fixture brand, style, finish, lighting, etc clients are involved in all decisions. The homeowner ultimately choose selections that are similar to our Dallas showroom. When we initially met the client to discuss his home renovation we were at our showroom. The client liked quality of what he saw as well as the craftsmanship of the products workmanship of our installers.
Step 3: Construction | Updating a 1950's Townhome
When planning a full scale renovation, kitchen renovation, or bathroom renovation an owner often thinks about the cost versus value add to the property. Will I get my money back? Will I increase the property greater than the cost of the renovation? These are all reasonable questions that Renowned can help answer with our extensive network of Real Estate professionals as well as our own investment experience.
The Renovation Renovation Plan was replacing the windows, renovating the bathroom, remodeling the kitchen with an open-concept new kitchen countertops, custom cabinets, refinishing the floors, stair baluster removal and handrail replacement, and fitting the home with Hunter Douglas PowerView window treatments.
1,027 square feet is a relatively small space to redesign. The client loves to cook and structurally, the kitchen/ wet bar area, was where most of the work was done. At the start of the renovation there was an enclosed galley style kitchen. There was also a wet bar that was directly behind the kitchen wall. We removed the wet bar wall and incorporated that space into the kitchen making it deeper and removed the upper portion of the galley kitchen entry wall creating and island peninsula. The bathroom contained an old cast iron tub which we removed and converted to a shower. All the old 1950's single pane steel windows were replaced with Milgard Styleline windows. Milgard offers a lifetime warranty.
One of our favorite parts of designing and renovating homes is incorporating elements of the home or style that can be preserved and/or reincorporated with the updated finishes and new layout. For this house, we refinished the original Hickory Wood floors Traditional looks can be transitioned into most design and style. Mixing and matching is what makes every home we remodel unique to the homeowner.
Another challenge for this small space was the owners desire for a 36" built in panel ready right hinge Bertazzoni fridge. Incorporating this fridge into the space left only two inches to spare for the installation. When your primary work consists of remodeling condos and townhomes professionals like Renowned Renovation learn how to utilize every inch of space.
The Secret to Great Cabinets
One of our signature features is custom-built Renowned Cabinetry. These are professionally designed by our cabinet-experts and are built in our Pennsylvania cabinet factory . Lead Cabinet Designer, Grant Woodruff notes, "A lot of cabinet makers don't think outside the box. They usually work in incremental sizes and use fillers to square spaces off. We use every inch and really optimize the space. Creating highly-efficient spaces with as much storage potential as possible."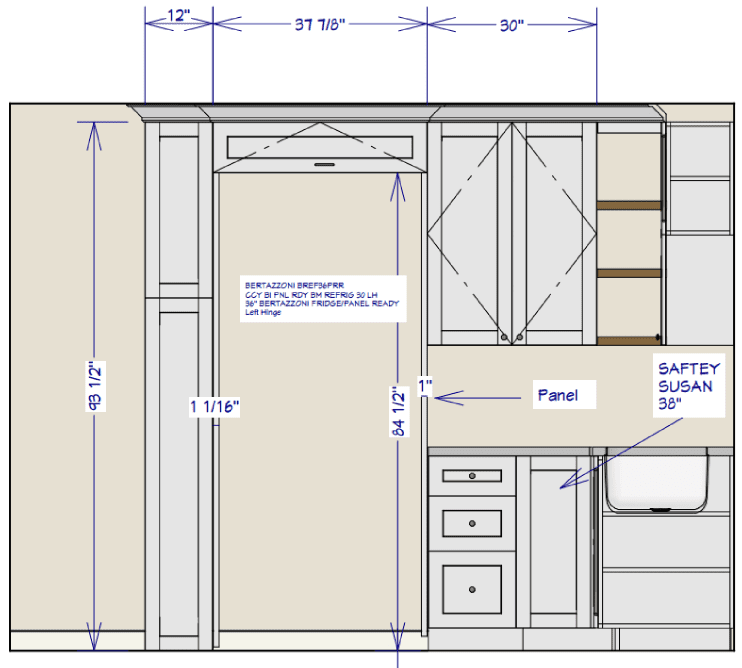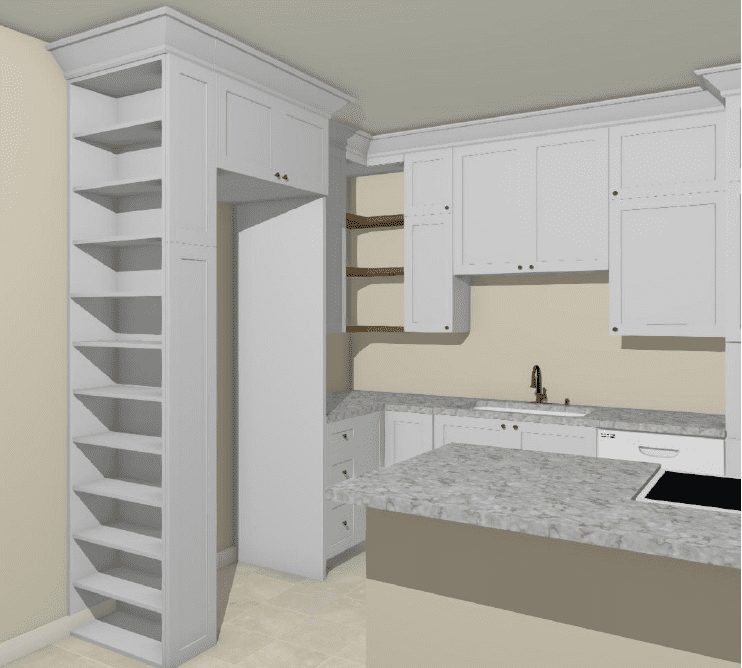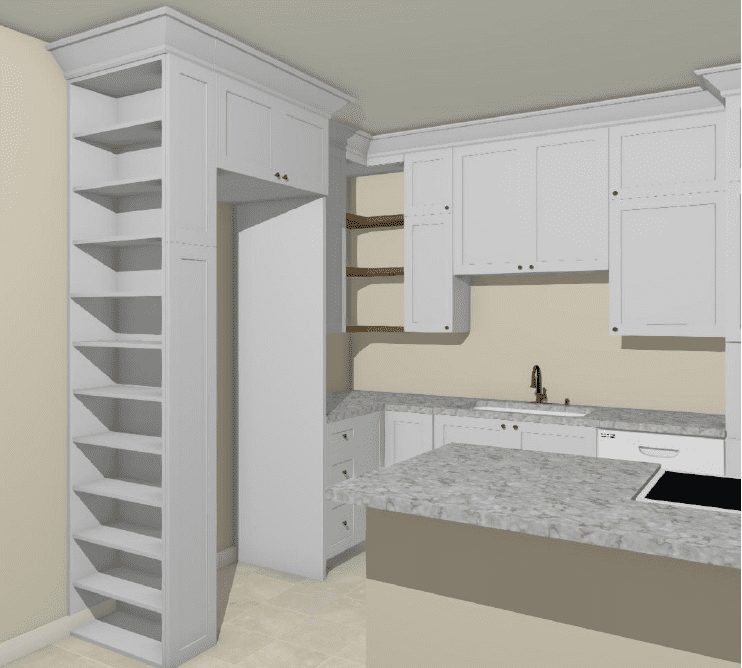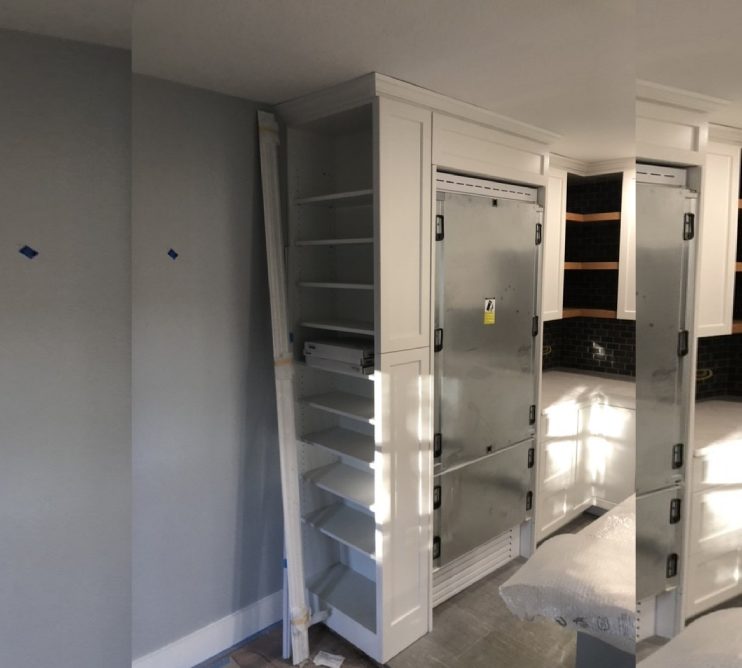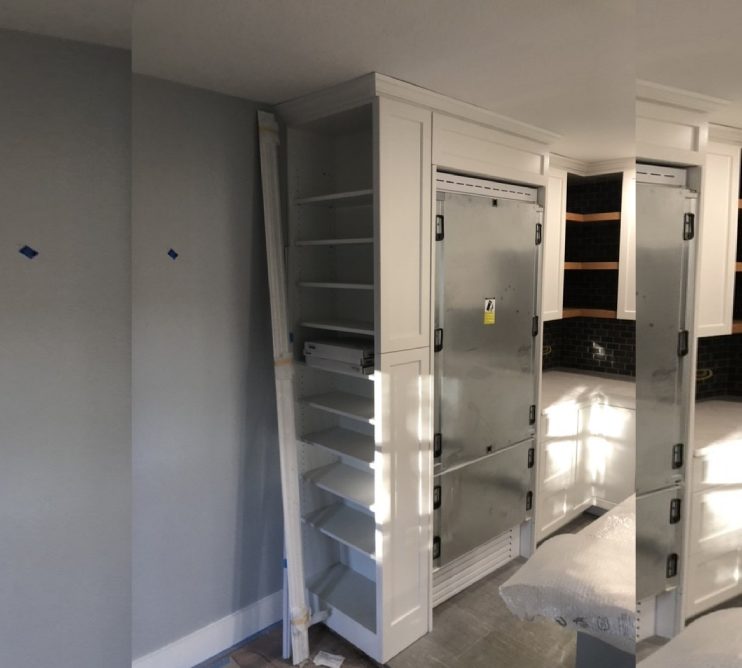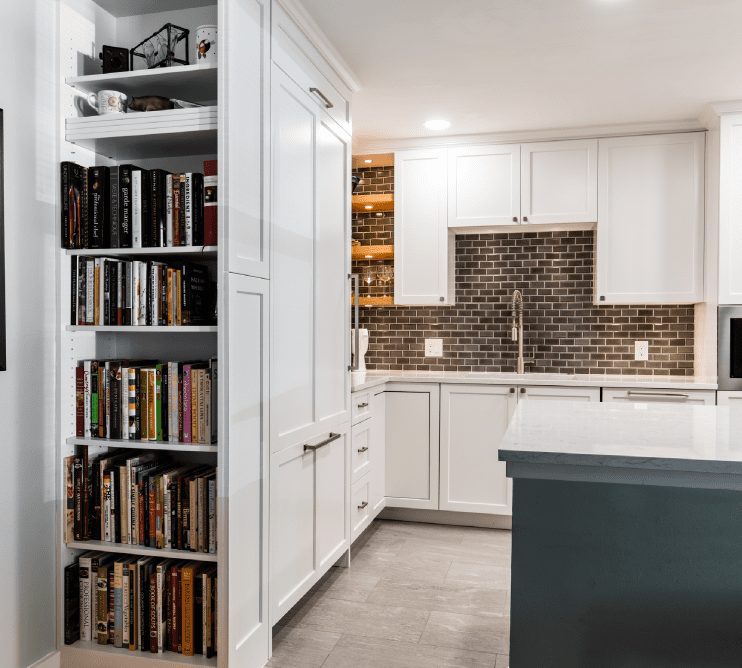 There's a lot of precision to Renowned Cabinetry and our approach to redesigning kitchens, pantries, and closets. Renowned Renovation bring years of design and organizational skill set to our clients.
Most cabinetry companies and contractors primarily use prefabricated cabinets or local cabinet makers and then paint or finish them onsite in the home. Renowned Cabinetry's factory takes our drawings and builds custom-cabinets to our specification, applies the finish in a factory setting, and ships the new cabinets to our Dallas warehouse. It's something above and beyond what other contractors offer or even have the capability to perform in Dallas.
In this home, we designed and installed the floating shelves you see in the kitchen photos. These corner shelves have a subtle, yet remarkable design that adds style and function. These particular shelves include built-in adjustable lighting. This is unique to us because we are custom building the shelves and stylizing them to be as practical as possible. Especially in a small space, the use of lighting is very important.
As a finishing touch we added fabulous built-in bookshelf. The client wanted to be able to store his cookbook collection, and we incorprated one into the design. This bookshelf is very space efficient because it's built into the floorplan. This also increases weight capacity, important for libraries of all sizes. With luxury cabinets by Renowned Cabinetry, there is a tremendous opportunity for your home and storage design needs.
Step 4: The Finishing Touches | Punch List
Once the project is substantially complete we schedule a Punch Walk with the Owner. We identify all aspects of the project that need attention. These are agreed upon based Residential
Construction Performance Guidelines Consumer Reference Fifth Edition and completed within the agreed upon time frame to customer satisfaction. We then clean the project, take photos, and turn the home over to our satisfied client. From the time of "Substantial Completion" the owner has a 2 year transferable warranty.
Contact Renowned Renovation today for your Dallas remodeling and interior design needs. We specialize in Luxury Remodeling, home improvement, kitchen remodeling, bath remodeling, design build, flooring, custom cabinetry, windows and doors, floors, and quartz surfaces are our forte.
Summary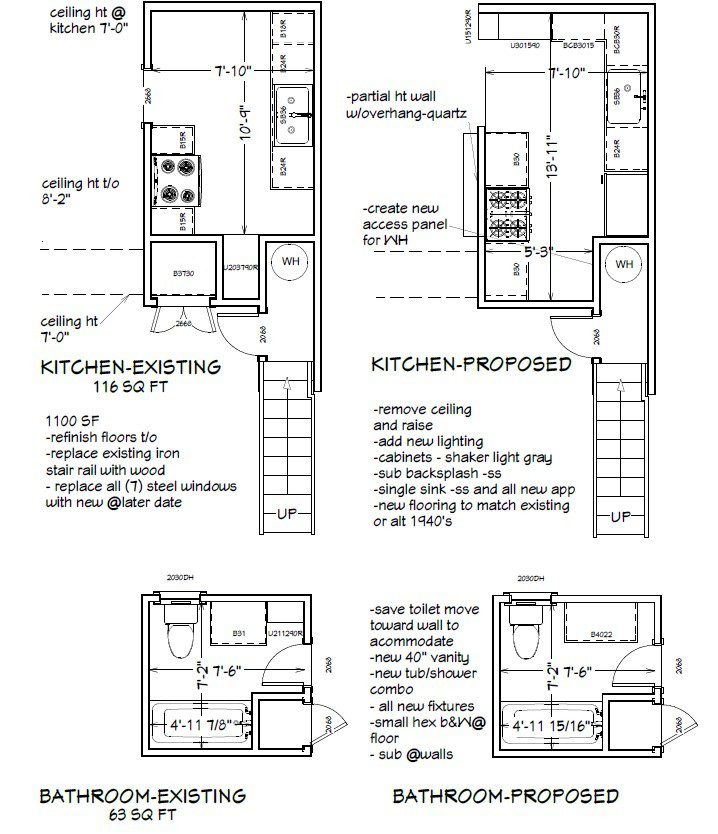 Service Type
Provider Name
Renowned Renovation
,
Bordeaux Village
,
Greenway Parks
,
North Dallas
-
75209
,
Telephone No.(972) 232-7122
Area
Description
Luxury Bordeaux Village 2-Story Townhome Remodel. We replaced the windows, renovated the bathroom, remodel the kitchen, installed new kitchen countertops and custom cabinets, refinished the hardwood floors and fitted the home with Hunter Douglas PowerView Window Treatments