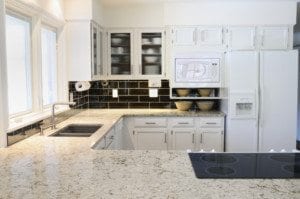 Angie's List has a warning out for anyone looking for new countertops. In a syndicated column appearing in newspapers around the country, Angie's List writer Oseye Boyd warns homeowners to watch out for deals that are too good to be true.
For instance, if someone offers you a great deal on discount granite for $29.99 a square foot, then they may be hiding the true costs of the job in the labor costs. It's easy to offer a low square-foot price when you're actually charging $500 per hour for your time and labor.
That's why you should always ask what exactly is included in the square-foot price, to avoid surprises down the line. For instance, some contractors might charge you extra for the granite countertop edge, driving up the price after you've accepted the job.
And if someone says they have some wonderful granite countertops left over from a previous job, run the other way.
Bathroom Remodeling Tips: How To Get a Fair Price on Granite Countertop Installation
Boyd writes for Angie's List that entry-level granite countertops usually cost $55 to $65 per square foot, while luxury materials often cost more. But when asking for a quote from home improvement contractors, ask for a quote on the entire job, not just the materials.
One granite countertop expert warned, "Don't worry about the square foot cost because that's such a small part of it. Unless you know what's included in the square foot, it's so irrelevant."
Whether you're looking for new granite countertops for your kitchen, bathroom, or a really weird bedroom, there's a reason this material is so popular. Not only is it an attractive surface that somehow looks both modern and classic simultaneously, but properly cared-for granite countertops can last for 50 years or more without a single scratch.
Compared to most other materials inside the average bathroom, that makes granite nigh indestructible.
In a survey from the National Association of Home Builders, bathroom remodeling was the #1 most requested job, and 78% of all home renovations included bathroom remodeling. And in a survey from popular home improvement site Houzz, 60% of users said they were planning to remodel the master bathroom.
Because bathrooms are some of the most used rooms in a home, and because they're subject to high moisture levels, these rooms need renovation more frequently than most rooms. So long as you get a fair price from reputable bathroom remodeling contractors, granite countertops are in ideal choice for homeowners. They're some of the most durable, attractive types of countertops available today.