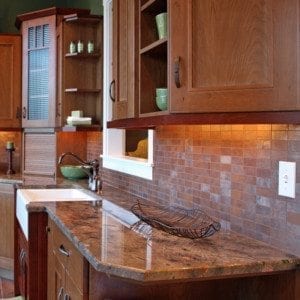 Did you know that a small kitchen renovation can bring you an 82.7% return on investment? A recent survey from the National Association of Home Builders' found that 69% of homeowner requests involve kitchen remodeling services. Modern, luxury kitchen features have never been more in demand.
Even if you don't want to re-do the entire kitchen, there are still simple ways to upgrade. New countertop installation can be especially rewarding when it comes to selling your home or even just investing in kitchen remodeling for your own enjoyment.
It's important to know that all materials aren't created equal. Granite, marble, quartz, and quartzite are some of the most popular countertop materials, but they don't all have the same durability.
Granite
This material is very hard and lasts around 50 years without a scratch when maintained properly. However, despite its hard nature, it is still a highly porous material that will stain without sealing. It is recommended to seal granite countertops yearly.
Also, because granite is designed by Mother Nature, the material isn't uniform in coloring. This can be a pro or con depending on your tastes, but you can possibly expect different color variances than you originally ordered.
Marble
Similar to granite, marble are very porous and must be sealed regularly. Marble is softer than granite and is more prone to etching from knives and pan scratches. Acidic materials and colored liquids are more likely to erode and stain marble than any other materials, so great caution must be made in the kitchen to wipe up spills quickly. Cutting boards are also essential with marble.
The designs on marble are also much more consistent than granite (think gray veining streaks across the entirety of the material against a white or light gray body). Despite these minor drawbacks, marble is an bright luxury material that will be the focal point of any kitchen.
Quartz
This countertops are manufactured in a variety of different colors and patterns, and are more predictable in their composition. Quartz are made with plastic resin and are therefore not as heat resistant. They are just as hard as granite but are non-porous and do not require any sealing. They will not stain, but will discolor over time if exposed to direct sunlight.
Since quartz is manufactured, seams in the different slabs will be easier to hide than the other materials during countertop installation.
Quartzite
Known as a natural-forming rock and has a similar appearance to marble. It is the hardest of all four materials and is extremely heat resistant. Like the other two naturally-forming materials, quartzite must be sealed, as to prevent staining.
So which of these natural stone materials is best for your next kitchen remodeling project? Ultimately, when it comes to countertop installation, there are other factors at play, such as how the chosen material will match the existing kitchen design.
To find the option that works best for you, find experienced kitchen remodeling services who have worked with these materials before. And if you're in the Dallas area, contact Renowned Renovations to start designing.